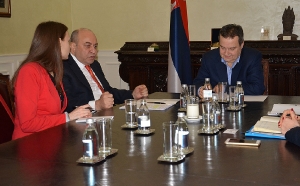 irst Deputy Prime Minister and Minister of Foreign Affairs of the Republic of Serbia Ivica Dacic had talks today with Ambassador of the Republic of Azerbaijan in the Republic of Serbia Eldar Hasanov.
All aspects of bilateral relations were discussed at the meeting, as well as the possibilities for their enhancement. Special emphasis was put on the importance of economic cooperation between the two countries, where great potential was seen in the trade in goods.
Overall cooperation between the two countries in 2017 was positively assessed, and mutual interest was expressed for the continuation of regular political dialogue at the high and highest levels, and realization of visits in the period ahead.
The Serbian Foreign Minister reiterated his gratitude to the Republic of Azerbaijan for its support to the sovereignty and territorial integrity of the Republic of Serbia.