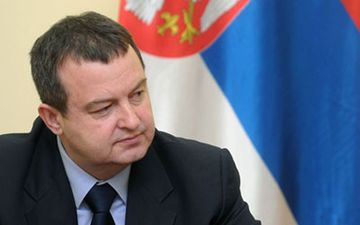 First Deputy Prime Minister of the Republic of Serbia and Minister of Foreign Affairs Ivica Dacic sent his greetings to Belgrade Archbishop Stanislav Hocevar, dignitaries and believers of the Roman Catholic Church for Christmas, wishing that it be celebrated with joy and faith in a better future for everyone in Serbia.
"On behalf of the Ministry of Foreign Affairs and on my own behalf, I congratulate you on the birth of Christ, wishing you to celebrate it in joy, prosperity, love and peace amongst your loved ones.
Christmas is an occasion to remind ourselves, once again, of the lasting values of togetherness, understanding, mutual respect and recognition, as the core values of our society and state.
May this holiday, celebrating birth and joy, bring us faith in togetherness and solidarity, showing us the path of true forgiveness and respect.
I believe that, in the hardships of our daily life, the holiday spirit will empower us to courageously face - convinced of our final victory - all the threats ahead of us and persevere in building a better and a safer future for us all", reads the message from Minister Dacic.