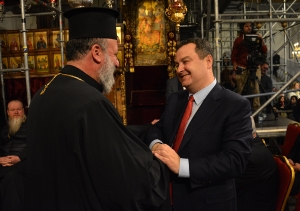 Celebrating the most joyous Christian holiday at Bethlehem, First Deputy Prime Minister and Minister of Foreign Affairs of the Republic of Serbia Ivica Dacic addressed his best Christmas wishes to all people in Serbia.
"I am highly honoured to have the opportunity to communicate – from this holy place, the Church of the Nativity in Bethlehem - my best wishes to all the people of Serbia for Christmas, the most joyous Christian holiday.
I wish you all peace, good health and family well-being, and my country and the entire region, stability and mutual confidence.
Christ is born", says the Foreign Minister in his Christmas greetings.