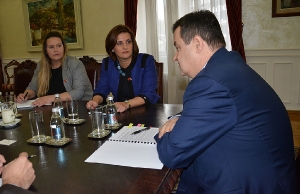 First Deputy Prime Minister and Minister of Foreign Affairs of the Republic of Serbia Ivica Dacic received today a farewell call from the Ambassador of the Republic of Macedonia to the Republic of Serbia, H. E. Vera Jovanovska-Tipko.
On the occasion, Minister Dacic expressed his gratitude to Ambassador Jovanovska-Tipko for the successful and close cooperation maintained during mission in Belgrade.
Recalling that the two countries' officials have exchanged numerous visits in the past period, Minister Dacic particularly pointed to the importance of strengthening a genuine and intensive political dialogue between the two states.
In the talks, both sides observed that they expected the forthcoming Third Joint Session of the Governments of the Republic of Serbia and the Republic of Macedonia, to be held in Belgrade in the first quarter of 2018, to additionally contribute to the further advancement of the very good bilateral relations and cooperation between the two countries.
In the conversation, both paid significant attention to opportunities for enhancement of cooperation between the two countries at economic level.