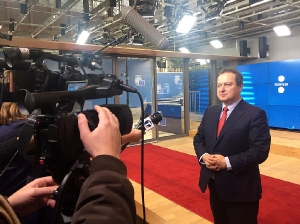 First Deputy Prime Minister and Minister of Foreign Affairs of the Republic of Serbia Ivica Dacic participated, in Brussels, today, at the meeting of the Ministers of EU Member States and candidate countries, organized within the framework of the Estonian Presidency of the Council of the European Union.
"It is customary during a country's Presidency of the Council of the European Union, to organize a meeting between Ministers of Foreign Affairs of candidate countries and the Foreign Affairs Council or the General Affairs Council.
Today's discussion, in which a large number of Ministers participated, was highly positive. It welcomed the decisions on opening new chapters for Serbia, and Montenegro. Positive tones were heard regarding the idea of enlargement, without any disagreements or objections. A conclusion can be drawn that the meeting sent a positive message, reflecting that preparation of an enlargement strategy is underway, as well as the strategy for the accession of Serbia and Montenegro.
There is an objective danger that the current intention seems to be avoidance of underlining that Serbia and Montenegro are leaders in the EU accession process, for the entire region should be included as a single package. This would be unacceptable to us, because we believe that the pace of everyone's EU accession process should be based on their own merit, reflecting the criteria that have been met.