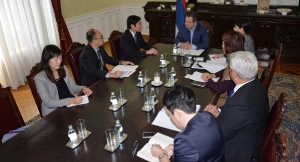 First Deputy Prime Minister of the Republic of Serbia and Minister of Foreign Affairs Ivica Dacic today received a farewell call from the Ambassador of Japan Juichi Takahara who will be soon relinquishing his post in the Republic of Serbia.
Minister Dacic thanked Ambassador Takahara for his personal contribution to stepping up political dialogue between Serbia and Japan.
According to the assessment of both collocutors, the relations between the two countries were on the constant rise, they were meaningful and multi-faceted. They expressed readiness to further strengthen dialogue, exchange visits at all levels and continue to promote economic ties. They also expressed an interest in promoting economic and all other forms of cooperation with special emphasis on measures to increase Japanese investment.
Minister Dacic reiterated gratitude for the high level of solidarity demonstrated by the Japanese people through donations and grants. He assessed that support and solidarity went both ways and that they represented a lasting value in the further development of friendly relations between Serbia and Japan.
The Chief Serbian diplomat wished Ambassador Takahara every success in his professional career and personal life, saying that he would always be a dear guest in Serbia.
Ambassador Takahara said that he carried the best memories from Serbia and that he was particularly pleased that several major projects agreed upon during his tenure were successfully implemented.