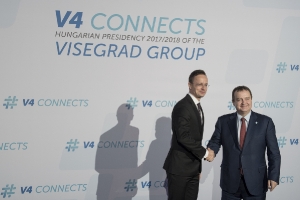 First Deputy Prime Minister and Minister of Foreign Affairs of the Republic of Serbia Ivica Dacic participated today in Budapest in the traditional Annual Meeting of the Foreign Ministers of the Visegrad Group (Hungary, Czech Republic, Slovak Republic and the Republic of Poland) and the Western Balkans Six, at the invitation of Mr. Peter Szijjarto, Hungary's Minister of Foreign Affairs and Trade.
In the meeting, the Ministers discussed speeding up the Western Balkans' European integration process – putting forward concrete suggestions on how to potentially achieve this, and also considered the security challenges facing these two European regions.
Furthermore, Executive Director of the Western Balkans Fund, Mr. Gjergj Murra, reported to the Ministers on the activity of the Fund and further steps to be taken towards the strengthening of this institution formally launched on 5 September 2017.
The Western Balkans Fund was established following the model of the Visegrad Group's International Visegrad Fund, with its assistance in know-how and resources aiming to encourage cooperation between civil society organizations in the Western Balkans.