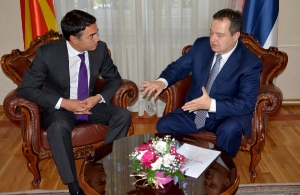 First Deputy Prime Minister and Minister of Foreign Affairs of the Republic of Serbia Ivica Dacic met today Macedonian Minister of Foreign Affairs Nikola Dimitrov, in Nis.
In a tête-à-tête conversation, Foreign Minister Ivica Dacic acquainted his Macedonian counterpart with the reasons that led to the withdrawal of Serbian diplomatic staff from Skopje. Views were exchanged about the ways to implement the five points agreed in a telephone conversation between Serbian President Aleksandar Vucic and Macedonian Prime Minister Zoran Zaev.
It was mutually concluded that the friendly cooperation, only possible through an open dialogue, is the common interest of the two countries. Moreover, it was assessed that the meeting held was one of the necessary steps towards rebuilding trust, which should be crowned with the meeting between Zoran Zaev and Aleksandar Vucic.
The next Ministerial meeting is due to take place in the margins of the Bled Strategic Forum.