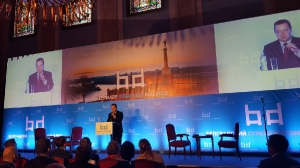 Address by First Deputy Prime Minister and Minister of Foreign Affairs of the Republic of Serbia Ivica Dacic at the opening of the Conference "New International Reality – Challenges and Prospects"
"Ladies and Gentlemen,
Esteemed Colleagues and Friends,
It is my distinct honour and pleasure to have the opportunity to address this distinguished meeting, and I thank the organizers for inviting me.
Ever since the beginning of the 21st century, global political and security developments have changed the world in many aspects without giving us the possibility to forecast the type of security challenges ahead of us. All that we can claim with certainty is that current security challenges have become transnational and global in character, i.e. that they affect at the same time a number of countries and regions, going beyond continents. Although still prevalent in the world of today, inter-state conflicts, once dominated by the use of conventional armed forces, are increasingly giving way to "non-military" threats such as terrorism, organized crime, growing energy interdependence, energy resource restrictions, cyber and hybrid wars, proliferation of weapons of mass destruction, including global challenges like poverty, epidemics and climatic changes. The current conflicts and flashpoints of crises in the world are the result of accumulated economic and political problems reflected in ever more visible divisions on different levels, which indicates an imperative need for partnerships in building global peace and security. It is unfortunate that a feeling that prevails in most people today is that the world has become a less secure and an increasingly dangerous place to live in. One of the major reasons for this lies in the fact that many challenges and threats are totally unpredictable, due to which response to them is either insufficient or tardy.
Serbia strongly believes in the viability of the principles of humanness, human solidarity and cooperation, and has thus always advocated establishment of partner and friendly relations with all the countries in the region, Europe and the world. Even today, against the backdrop of turbulent political and economic developments on the world scene, Serbia endeavours to contribute to the preservation of world peace and peaceful solution of controversial issues, through its constructive positions, initiatives and concrete proposals. We are committed to interstate and international relations based on civilizational norms and international law.
May I recall how Serbia responded and continues to respond to the migration problem. At the outbreak of the migration crisis, Serbia faced a problem that was not possible to solve through unilateral measures, but solely by way of a unified, solidary action. The absence of such response demonstrated Europe's political and security vulnerability and obstacles to the embracing of a joint approach. Economic and demographic consequences of the crisis cannot as yet be perceived, but further clarification will certainly follow in the coming years.
The assessments of Serbia's activities in this area were the highest possible, as well as its international recognition. We still hope that joint efforts will help reach a comprehensive and sustainable solution on the European level, to which we are ready to give our contribution, as well as to assume our share of responsibility. Since this problem goes beyond national boundaries, an appropriate solution can be found solely through a common response and action of all countries.
Serbia believes that the United Nations principles and goals have retained their relevance. Sovereign equality of states, refraining from the use of force, non-interference in the internal affairs of other states, peaceful settlement of disputes and respect of differences are principles whose topicality has withstood the changes on the international level brought about with the onset of the 21st century. Nevertheless, the reality makes it incumbent on us to deal with ever more complex tasks which we do not attend to with adequate resolve and courage, nor do we involve all our capacities or take a sufficient amount of joint action in order to provide an adequately effective response.
A particular challenge to Serbia and the region is posed by the EU enlargement policy, and its accompanying effects and uncertainties. Today, the European Union is facing an identity crisis and re-examination of the purpose of its being in existence. While being aware of all those challenges and the need of carrying out a series of reforms on the EU level, we nevertheless believe that maintaining the credible enlargement policy, based on clear and unified criteria, is essential both to the region where we belong, and Europe as a whole. The EU's Global Security Strategy presented in June last year, clearly indicates that the enlargement policy constitutes a strategic investment in European security and prosperity, assuring us that the EU is aware of its most successful policy which should contribute to the stability and progress of both our region and the entire European Union.
Whatever happens in the future, the fact remains that the EU model is the highest level of integration achieved in modern political history, which has enabled long-term reconciliation among European peoples and countries with different political, security and cultural heritage. A sustainable economic and social system has been reached, providing people with a high standard of living. The European Union has, by and large, become a global example of cooperation and integration for overcoming crises and ensuring peace and stability. For this reason, Serbia continues to identify full EU membership as a national strategic goal. This is not an end in itself, for we see European integration primarily as an instrument of reform implementation and modernization of all areas of society and the state, and as a road of ensuring sustainable and lasting peace, security and confidence in the region. May I recall - for I consider it necessary, that, although the courageous political and economic steps Serbia has taken have been recognized by the EU, I am convinced that both Serbia and the European Union can, and should, do better in this respect.
An integral part of Serbia's EU integration process is the promotion of regional cooperation, both on the bilateral and multilateral levels. We would like to have honest and constructive talks on all outstanding issues, and to seek lasting and sustainable solutions, together with our neighbours. Serbia is committed to dialogue which will guide us to create a better political and economic environment in the region, to the effect of ensuring peace, stability and prosperity for all our people. Serbia is reaching its political stability, upon which it wishes to build its economy, attract foreign investments, make up for the lost time, and contribute to regional stability. The progress made by each and every one of us in the region should be seen by others as an encouragement rather than as a limiting factor.
Along with its regional partners, Serbia is strongly reinforcing the infrastructural network of the entire Balkans, contributing as much as possible to transport, energy, economic connectivity, and promoting youth cooperation, to the effect of enhancing its internal capacities, thus aligning this part of Europe with EU acquis communautaire. The efforts of Belgrade are receiving continuous international community support which will, hopefully, be followed by stronger support on the European integration path.
Distinguished participants,
The fact that global security challenges cannot bypass our region requires that a common response be sought in mutual cooperation, as we are aware that the challenges are indivisible and cannot be surmounted by any one of us alone. Serbia will continue to support the European aspirations of its neighbours and pursue the policy of military neutrality, thus protecting and promoting its national interests. Such policy will enable Serbia to develop cooperation and build the relations of trust with all key international factors.
Serbia has proved and continues to prove to be a credible and reliable partner. We are firmly committed to give a contribution – in cooperation with our partners worldwide, to the elimination of threats on regional, European and global levels.
Thank you."