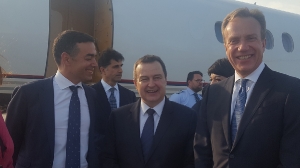 Acting Prime Minister and Minister of Foreign Affairs Ivica Dacic welcomed today the Foreign Ministers of the Kingdom of Norway and Macedonia, Berge Brende and Nikola Dimitrov.
Minister Dacic welcomed the two Foreign Ministers and thanked them for attending the official reception on the occasion of assumption of duties by President of Serbia Aleksandar Vucic.
On that occasion, the three Ministers discussed bilateral relations, the European paths of Serbia and Macedonia and the situation in the region.
Minister Dacic thanked his Norwegian counterpart on supporting economic and social reforms, provided by Norway to Serbia through various bilateral cooperation programs, and stressed the need to continue with these reforms.
Minister Brende stressed that Serbia and Norway were friends and partners, whose economic cooperation was rising, and expressed hope that, along with the progress on the European path that Norway strongly supported, Serbia would attract more Norwegian investors.
Considering the situation in the region, the Serbian Foreign Minister reiterated a strong commitment to the policy of regional stability and cooperation. In this regard, they stressed the need to continue the dialogue between Belgrade and Pristina.
Ministers Dacic and Dimitrov agreed that the stability of the region was a priority for both countries and estimated that, despite the recent sharp rhetoric, the two governments would successfully cooperate. Serbia and Macedonia have a common goal - EU membership, and they must help each other along that path.