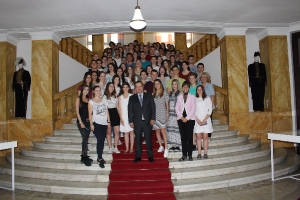 A group of students and teachers of the First Belgrade High School visited today the Ministry of Foreign Affairs.
They were addressed by Acting Prime Minister and Minister of Foreign Affairs Ivica Dacic, at the Museum of Serbian Diplomacy.
"We are honoured to welcome, for the first time – on the premises of the Museum of Serbian career diplomacy, in the office of our Nobel Prize laureate Ivo Andric - a group of high-school students, particularly because they are coming from the First Belgrade High School, which was attended by renowned historical personalities. They include, to name just a few – King Peter I, The Liberator, Ljuba Nenadovic, Stepa Stepanovic, Radomir Putnik, Zivojin Misic, Svetozar Markovic, Milovan Glisic, Stevan Sremac, Laza Lazarevic and many other famous students and teachers of this school."
Minister Dacic particularly underlined the fact that the First Belgrade High School, and the Serbian diplomacy shared something in common. Namely, the first Foreign Office of the Principality of Serbia was established in 1839, i.e. the same year the First Belgrade High School was founded. That date, 29 May 1839, is currently observed as the Day of Serbian career diplomacy.
The Serbian Foreign Minister informed the students that the Museum was established in 2012, that its collection initially comprised material reflecting 200 years of modern Serbian diplomacy, and that the stock had been significantly expanded ever since.
"The Museum includes the replica of the Nobel Prize and Charter, the replica of a first-class diplomatic uniform, and the reconstructed "diplomatic office" with a writing desk from the Ivo Andric era, and his official dossier. The Museum also displays information on the first woman diplomat, the first Serbian ambassadors and the diplomatic oath."
I would like you to complement your knowledge with the history of Serbian diplomacy, which has always shared the destiny of the entire Serbian people. I would also like you to experience part of the atmosphere at the Ministry of Foreign Affairs, which will inspire you, possibly, to choose diplomacy as your future profession. Serbia needs today, more than ever before, young educated people committed to protection of its national interests. You, too, are among these young people."
The Minister wished the students a successful end-of-the-school year and performance in their further education, expressing hope that some of them would become diplomats in the future.