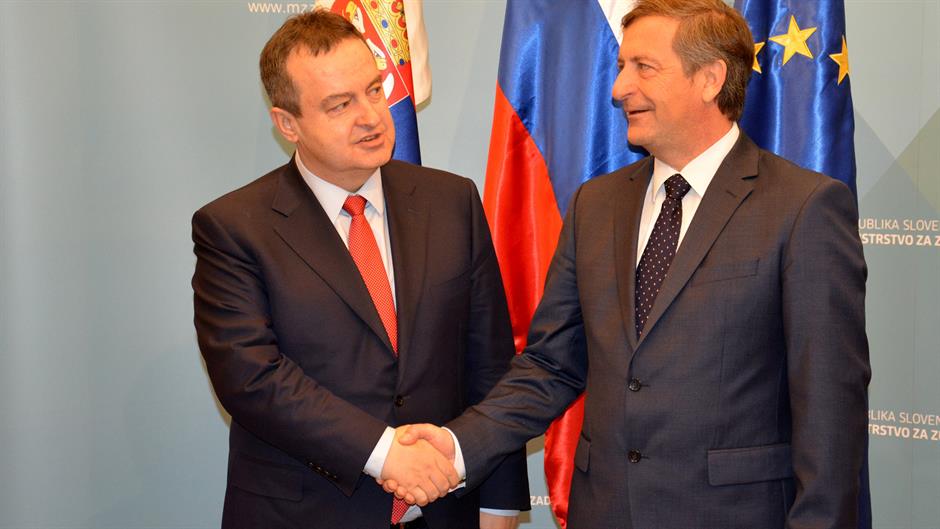 Acting Prime Minister and Minister of Foreign Affairs of the Republic of Serbia Ivica Dacic met today with his counterpart, Foreign Minister Karl Erjavec, in Slovenia, on the fringes of the Brdo-Brijuni Process Summit.
In today's meeting, the two Ministers expressed satisfaction with the very good relations between the two countries.
Serbian Foreign Minister Ivica Dacic informed about the inauguration of President Aleksandar Vucic, to take place on 23 June, recalling that invitations had been extended to President Borut Pahor and Prime Minister Miro Cerar.
Minister Erjavec expressed interest about the sale of immovable property in New York – namely, residence and mission buildings. Minister Dacic underlined that it was the Republic of Serbia's interest that these two buildings be sold as soon as possible, since Serbia had been covering considerable maintenance costs for the residence which had not been occupied since 1991.
The two Ministers also discussed the next joint session of the two Governments, envisaged to be held in autumn in Slovenia.
During the meeting held today, the interlocutors also considered the situation in Macedonia, and the Slovenian Foreign Minister expressed concern with the situation in that country.