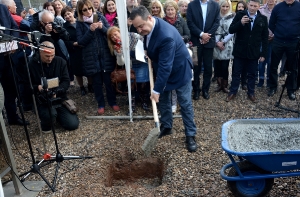 Statement by First Deputy Prime Minister of the Republic of Serbia Ivica Dacic at the ceremony of laying the foundation stone for the construction of housing in Paracin for refugees from Croatia and Bosnia and Herzegovina, within the implementation of the Regional Housing Programme in the Republic of Serbia, in the framework of Subproject 2
"Dear guests
Friends of the Regional Housing Programme,
We have gathered here again, shortly after laying the foundation stones for housing construction in Prokuplje, Krusevac and Sremska Mitrovica, in order to lay another foundation stone for the construction of 20 housing units for the most seriously affected refugee families in Paracin. Thank you for being here today, and for accepting the invitation to mark a new beginning together.
Shortly, it will be five years since the Donor Conference in Sarajevo, which announced pledges in the form of grants for RHP implementation. The raised funds, amounting to some 300 million euro, although significant, are only a part of the assessed overall funds needed for the Programme's full implementation, aimed at ensuring durable housing solutions for 27,000 most adversely affected refugee families in the region, out of which 16,870 families are in the Republic of Serbia. We owe a debt of gratitude to bilateral donors of the RHP Fund and international organizations involved in the Programme implementation, which have jointly contributed to the accomplishment of results. By its nature and goals, the Programme constitutes a turning point in regional relations, and I hope that all of its participating countries will persevere in its full implementation, primarily in terms of regulating the civic status and social issues that are of essential importance.
The difficult times behind us required a lot of effort, patience and above all perseverance, before we could begin to take, together with regional partner countries, specific steps towards the RHF implementation. We have learned from experience that there is no simple, administrative solution to the refugee problem. True belief in our goal, accompanied by efforts of our relevant institutions, at central and local levels, coordinated successfully by the Commissariat for Refugees and Migration, has helped us overcome all difficulties and make an immeasurable contribution to the success of the Programme. I further wish to underline the important role of local self-government units, which are expected to provide for these people a stimulating developmental environment, which they have certainly deserved after so many years. Now that the RHP has seen its full implementation, when construction works are in progress in as many as 117 local self-government units, I am very happy to say that we have succeeded, and that the results of our endeavours are evident almost on a daily basis.
In the period ahead, we expect to see construction of housing units in five more municipalities including Vrsac, Bajina Basta, Sid, Sabac and Kikinda, also under Subproject 2, providing for the construction of a total of 200 housing units in nine local self-government units.
As Chair of the Commission for coordinating the process of permanent refugee integration, and President of the RHP Steering Board, I am proud to be able to make a personal contribution to, and participate in, addressing these vitally important issues. I hope that our future activities, just like this small but an important step, will demonstrate that by joining efforts we can contribute to a better future of all those among us who need this kind of assistance.
After living as refugees for a long time in uncertainty, it is my wish for you to find in this new chapter of your life - here at the heart of Pomoravlje, at the intersection of many roads – your home, joy and prosperity and embark upon a fresh path of victory."