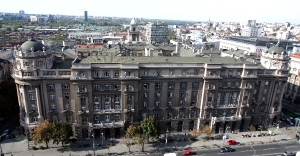 The first round of political consultations between the Ministry of Foreign Affairs of the Republic of Serbia and the Ministry of Foreign Affairs of Georgia, at the level of Assistant Ministers in charge of bilateral relations, was held in Belgrade on 31 March 2017.
The Serbian delegation was headed by Acting Assistant Minister Ambassador Goran Aleksic, and the Georgian delegation by Deputy Minister Vakhtang Makharoblishvili.
The officials took note of the firm commitment by both sides to the further development and promotion of overall cooperation, particularly in the economy. They agreed to establish regular political dialogue at high and top levels and, in this context, discussed prospects for the realization of visits by the two sides' top officials, in the coming period.
Views were exchanged on the current state of bilateral relations and the prospects for their promotion, on the cooperation between them in international organizations, security challenges at European and regional levels, and the contractual-legal basis.
Both sides expressed support to the respect of principles of sovereignty and territorial integrity of the internationally recognized states. The Serbian side conveyed gratitude to the Georgian side for their consistent position concerning non-recognition of the unilaterally declared independence of Kosovo as well as the support extended to Serbia in international organizations.