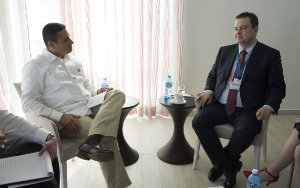 First Deputy Prime Minister and Minister of Foreign Affairs of the Republic of Serbia Ivica Dacic had a number of bilateral meetings on the fringes of the 22nd Ministerial Council of the Association of Caribbean States (ACS).
Minister Dacic had 13 bilateral meetings with heads of delegations of ACS Member States and Observer States.
In open and extensive talks with representatives of Argentina, Barbados, Bahamas, Venezuela, Guatemala, Dominican Republic, El Salvador, Jamaica, Colombia, Mexico, St. Lucia, Surinam, Chile and Cuba as the host, the Serbian Foreign Minister informed his interlocutors of the ongoing reform processes in the Republic of Serbia, results of the dialogue between Belgrade and Pristina, and Serbia's European integration process.
All interlocutors underlined the importance of developing cooperation with the Republic of Serbia as the central Western Balkans state.
During their talks, the Serbian Foreign Minister and Foreign Minister of Guatemala Carlos Morales Moscoso identified the coming activities aimed at broadening cooperation, including the return visit by Minister Dacic to Guatemala.
The Ministers exchanged detailed information concerning internal political and economic developments of the two countries, as well as regional relations and cooperation in the Balkans, Central America and the Caribbean.
In her conversation with Minister Dacic, Head of the Jamaican delegation Marlene Malahoo Forte, Attorney General of Jamaica, underlined her country's firm position regarding the support of the principle of the protection of territorial integrity and international law, emphasizing, in this context, Jamaica's support to Serbia and its principled policy.
The Jamaican Attorney General underlined that it was important not to create precedents by taking unilateral steps in violation of the basic principles governing international relations. She also supported further promotion and deepening of bilateral political and economic cooperation between the two countries.
Minister Dacic pointed out that cooperation on the multilateral level was very meaningful, that political relations were good, but that it was necessary to give an impetus to the enhancement of economic cooperation, as well as cooperation in the fields of culture, education and sports.
Minister Dacic had talks with the Deputy Minister of Foreign Affairs and Trade of the Dominican Republic, in charge of international trade cooperation and development, Jugo Francisco Rivera Fernandez.
Both sides assessed during the talks that there were vast possibilities for developing and enhancing their bilateral, political and economic ties.
The Deputy Minister of Foreign Affairs and Trade of the Dominican Republic proposed the convening of a meeting of businessmen from the two countries, and the signing of intergovernment agreements on the development of economic cooperation.