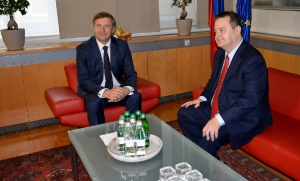 First Deputy Prime Minister and Minister of Foreign Affairs of the Republic of Serbia Ivica Dacic is visiting the Republic of Slovenia.
Minister Dacic had a meeting today with his colleague, Minister of Foreign Affairs of Slovenia Karl Erjavec.
At the press conference following the meeting, Dacic underlined that, over the past twenty years, he visited Slovenia a few dozen times, as Minister of Interior, Prime Minister and, now as Minister of Foreign Affairs.
He further noted that, in recent years, significant progress was made in the relations between Serbia and Slovenia, and that the level of their cooperation was enhanced as a result of frequent bilateral meetings.
The Serbian Foreign Minister also stated that the practice of holding annual joint sessions between the two governments had been in place, and that their next session would take place in Slovenia.
"I would like to note that there has been very good communication between the highest officials of the two countries, namely between Serbian Prime Minister Vucic and Slovenian Prime Minister Cerar, as well as between Minister Erjavec and myself.
It is important to underline that we will support each other wherever possible. Although Serbia has not as yet become an EU member, it will always give positive consideration to proposals and positions of Slovenia, whether in the context of personnel issues, presenting candidatures for international organizations, or with respect to some other issues including various bilateral ones.
Both Serbia and Slovenia have a problem with Croatia regarding borders. However, neither of us has reached the point of referring the matter to arbitration. The respective border runs along the Danube River, and there is a divergence of positions in this regard. Serbia believes that the border should run across the middle of the river, while Croatia holds that a solution should be sought based on cadastre lots, meaning that the border should run from one bank of the river to the other. We consider this illogical and difficult for implementation.
Irrespective of our agreement to set up a commission to deal with this matter, Croatia has not yet designated its representatives to that end.
A conclusion can be drawn that they are not eager to reach a quick solution, but that they are eager to see the matter being brought before the international community. We will have no other option but to seek assistance and expert opinion in this regard, which would eventually be acceptable to all. Although a considerable amount of time has elapsed since the dissolution of Yugoslavia leaving us plenty of time for addressing outstanding issues, these issues have not been resolved.
With this in mind, I wish to draw attention to our joint efforts in recent years, which have helped break the stalemate on many issues, particularly regarding succession.
Serbia has handed over to Slovenia some facilities, thus settling 70% of its claims. We are well on the way of having all issues resolved.
The fact that our peoples have sympathies for each other, and that there are no disputes on crucial issues, should be regarded as an asset in the development of our relations in the political, economic, cultural and any other area.
We are pursuing a policy of cooperation, and seeking common solutions.
There are opportunities for improving our economic cooperation. Our foreign trade has reached some billion euro; Slovenia is Serbia's ninth foreign trade partner globally, and I believe that this trend should continue in order to develop our relations in all spheres", the Serbian Foreign Minister stated following his meeting with Erjavec.