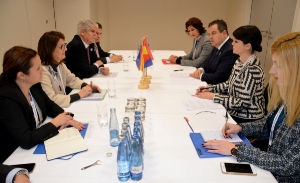 First Deputy Prime Minister and Minister of Foreign Affairs of the Republic of Serbia Ivica Dacic had talks with Alfonso Dastis, the newly appointed Minister of Foreign Affairs of the Kingdom of Spain, on the fringes of the 23rd OSCE Ministerial Council taking place in Hamburg.
Both Ministers assessed the bilateral relations between the two countries as traditionally close, expressing support to continuing and intensifying cooperation at bilateral and multilateral levels.
They noted that their views fully concurred concerning the necessity to respect the principles of international law.
Minister Dacic expressed his deep gratitude to Spain for its principled support to the territorial integrity and sovereignty of Serbia, as well as to the European integration of our country.
In the meeting, the officials also discussed exchanging visits at top political level.