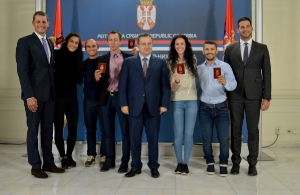 First Deputy Prime Minister and Minister of Foreign Affairs Ivica Dacic presented today at a formal ceremony diplomatic passports to athletes winning medals in individual events for Serbia at the Olympic Games in London and Rio.
Diplomatic passports were granted to wrestler Davor Stefanek, taekwondo player Tijana Bogdanovic, kayak athletes Milenko Zoric and Marko Tomicevic and to Milica Mandic, a taekwondo medallist at the London Olympics, whereas women's long jump Olympic medal winner Ivana Spanovic received her diplomatic passport earlier.
"I am greatly honoured to present to you today, on behalf of the Ministry of Foreign Affairs, diplomatic passports which you will be holding as goodwill Ambassadors", said Minister Dacic at a ceremony held on the MFA premises. He stressed that today only 27 athletes were holders of diplomatic passports and that authorization for issuance of such passports was granted only for those with highest merits.
The Head of Serbian diplomacy pointed out that diplomatic passports were valid for five years and enabled travel to countries for which there was a visa requirement, including their more favourable treatment while abroad.
"I expect that as goodwill Ambassadors you will represent Serbia in the best possible way. Your conduct, strong will and performance have demonstrated that you are true Ambassadors of our country and you have helped that our country's name is heard a long way", said Minister Dacic.
Youth and Sport Minister Vanja Udovicic said that a year of a record high count of medals was behind us: 37 Olympic and Paralympic medals altogether. He emphasized that athletes contributed to the promotion of Serbia both when it comes to its image and the attraction of foreign investors.
"You are becoming hereby today a small group of goodwill Ambassadors and I hope that you will accept it not only as a reward for the efforts put in and the results achieved, but also as an obligation and privilege that you must serve as an example to younger generations as well as encourage other athletes and be idols deserved to be worshipped by the whole of Serbia", stated Minister Udovicic.
Both Ministers announced that diplomatic passports were being contemplated also for team sports and Paralympians.
The ceremony was also attended by Secretary General of the Serbian Olympic Committee Djordje Visacki, who thanked the Government of Serbia for showing in this way as well how much it supported and appreciated its athletes.
"Had it not been for this support and cooperation, Serbian sport would not be able to function on its own", Visacki said.
On behalf of athletes Davor Stefanek said that the Government of Serbia recognized the importance of these passports for their journeys to and from competitions and preparations for competitions.
"We as athletes and Ambassadors of the Republic of Serbia will do our utmost at all these competitions to represent Serbia the best way we can and delight you by winning new medals", Davor Stefanek underlined.