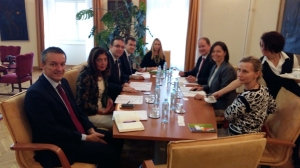 At the Ministry of Foreign Affairs of the Republic of Serbia, political consultations in the field of security policy were held between the Serbian Foreign Ministry's delegation, headed by Acting Assistant Minister for security policy Branimir Filipovic, and the delegation of the Ministry of Foreign Affairs of Republic of Estonia, led by Security Policy Director Mariin Ratnik.
Both sides expressed satisfaction with holding the first round of consultations on security policy, emphasizing their willingness for this becoming a regular practice that would, along with other forms of cooperation, contribute to the strengthening of their bilateral dialogue.
In the consultations, views were exchanged on the mutual cooperation in the framework of the NATO Partnership for Peace programme, taking part in international missions, arms control, the EU's Common Security and Defence Policy, energy security, combating terrorism and hybrid threats, as well as issues of mutual interest in the sphere of security policy.