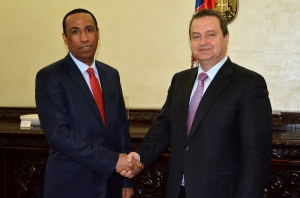 Serbian First Deputy Prime Minister and Foreign Minister Ivica Dacic received today Ambassador of the United Arab Emirates to the Republic of Serbia Juma Rashed Al Dhaheri.
Emirates Ambassador Juma Al Dhaheri handed Minister Dacic an invitation for participation in the Sir Bani Yas Forum, which is organized by the Ministry of Foreign Affairs of the UAE and the Center for Strategic and International Studies, to be held in Abu Dhabi in November 2015. He indicated that Minister Dacic's stay in Abu Dhabi would contribute to the successful work of the Forum and, at the same time, confirm the good relations and mutual respect
existing between Serbia and the UAE.
During the meeting, Minister Dacic pointed out his satisfaction with the level of contacts realized between the officials of the two countries, as well as the rise recorded in mutual economic cooperation. He confirmed the readiness of Serbia to further strengthen and expand all-round cooperation, especially economic and investment cooperation.