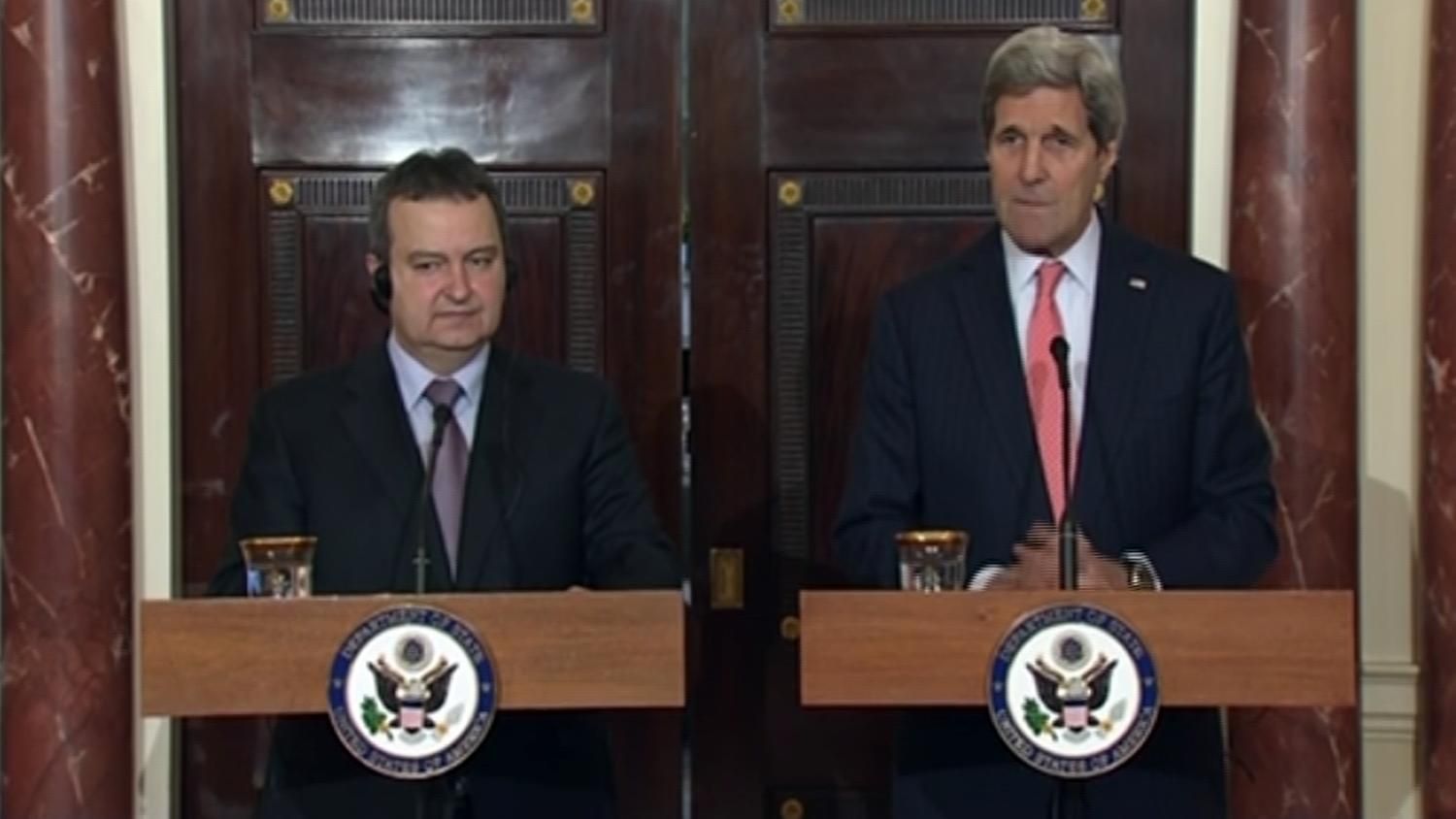 First Deputy Prime Minister and Minister of Foreign Affairs of the Republic of Serbia Ivica Dacic met today, in his role of OSCE Chairman-in-Office, with US Secretary of State John Kerry.
The OSCE Chairman-in-Office and the US Secretary of State exchanged views on the current situation in Ukraine, diplomatic efforts to end the crisis and the concrete steps to be taken, according to the plan of the Trilateral Contact Group, once the ceasefire took hold. Protracted conflicts in the OSCE region and the state of play in the negotiations in OSCE formats dealing with these issues were mentioned.
The two sides also talked about the Serbian Chairmanship's priorities supported by Secretary Kerry, pledging American support to their implementation through the structures of the Organization for Security and Cooperation in Europe. Minister Dacic also presented the European integration process of Serbia to his interlocutor.
The meeting with Secretary Kerry is the last in a series of activities of Serbian First Deputy Prime Minister and Foreign Minister Dacic on his trip to the United States where, in his capacity as OSCE Chairman-in-Office, he briefed the UN Security Council and addressed the Helsinki Commission on OSCE activities, and also talked with UN Secretary-General Ban Ki-moon and the Foreign Ministers of Russia and Ukraine.
Previously, on his visit to the United States, Dacic, as Minister of Foreign Affairs of Serbia, on Monday attended the UN Security Council open debate devoted to maintenance of international peace and security, and spoke with the Foreign Ministers of China, Malaysia, Venezuela, Nigeria and New Zealand.
On Friday, 27 February, OSCE Chairman-in-Office Dacic will meet in Vienna with the Permanent Representatives of the OSCE Troika, consisting of Switzerland and Germany in addition to Serbia, and OSCE Secretary General Lamberto Zannier, as well as with his Special Representative in Ukraine, Ambassador Heidi Tagliavini, and Head of the OSCE Special Monitoring Mission in Ukraine, Ambassador Ertugrul Apakan