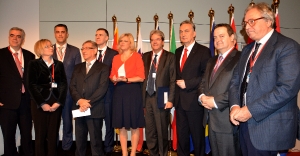 First Deputy Prime Minister and Minister of Foreign Affairs of the Republic of Serbia Ivica Dacic participated today in Brussels in the Conference on the occasion of the launch of the EU Strategy for the Adriatic-Ionian Region (EUSAIR).
The Conference was organized by the Italian Presidency of the Council of the European Union, in cooperation with the European Commission, the Adriatic-Ionian Initiative and the Marches Region (Italy).
Today's meeting presents a key step in the launch ("kick-off") of the Strategy where Serbia is a participating State and which is aimed at deepening the cooperation among the countries of the Adriatic-Ionian Region in the areas of transport, energy, economy, environmental protection and tourism.
At the Conference, the Foreign Ministers once again gave full political support to the implementation of the Strategy adopted by the European Commission.
In addition to the Foreign Ministers of the EUSAIR participating States, the Conference was attended by representatives of EU institutions, national and regional bodies responsible for the management of EU funds, as well as other actors responsible for the implementation of the Strategy.