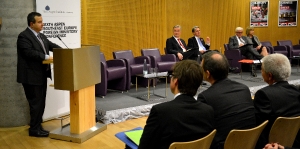 First Deputy Prime Minister and Minister of Foreign Affairs of the Republic of Serbia Ivica Dacic attended today the Conference of SEE Foreign Ministers hosted by the Aspen Institute of Berlin.
The Conference had two panel discussions for SEE Foreign Ministers, entitled "The Western Balkans on the path of European integration: sustainable progress and reform" and "Bosnia and Herzegovina – revitalization of the European process", at which Minister Dacic was one of the panellists along with his other colleagues from SEE.
The Conference also consisted of an economic panel discussion on regional cooperation and development of infrastructure projects in the Western Balkans.
A meeting held behind closed doors on EU enlargement, reform agendas in the WB countries and on regional cooperation, apart from the Foreign Ministers of regional countries, was also attended by the officials of the governments of Germany, France, Italy, United Kingdom, United States and those of the EU institutions.
In the margins of the Conference, Minister Dacic had a bilateral meeting with UK Foreign Secretary Philip Hammond to discuss the promotion and further expansion of cooperation between the two countries.