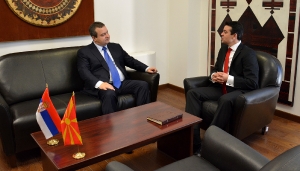 First Deputy Prime Minister and Minister of Foreign Affairs of the Republic of Serbia Ivica Dacic is paying his first official visit today to the Republic of Macedonia since taking office.
Minister Dacic met with President of the Republic of Macedonia Djordje Ivanov, Foreign Minister Nikola Poposki, as well as with Speaker of the Parliament Trajko Veljanoski.
The two Ministers signed the Agreement between the Government of the Republic of Serbia and the Government of the Republic of Macedonia on the joint use of diplomatic and consular premises.
After the meeting, Minister Dacic assessed at a press conference that the relations between the two countries in recent years had been on an ascending line, and that such cooperation should be continued.
"Serbia and Macedonia are friendly countries and it is our interest that our relations are as good as possible. Serbia supports the European future for Macedonia and considers that this region has been unfairly underrated for years compared to other parts of Europe", emphasized Dacic, adding that he expected the second joint session of the two governments be held soon in Macedonia.
Dacic took the opportunity of visiting Skopje to invite Macedonian Prime Minister Nikola Gruevski to visit Belgrade, on 16 and 17 December, to attend a meeting of the Chinese Prime Minister with the Prime Ministers of 16 countries of Central, Eastern and Southeastern Europe. He announced that he would meet again with Macedonian Foreign Minister Poposki already next week in New York, on the sidelines of the UN General Assembly, where a meeting of the Foreign Ministers of the Western Balkans would be held, as well as next month at a meeting in Belgrade where, besides the Ministers of Foreign Affairs, the Ministers of Economy/Finance would participate.
Minister Dacic estimated that the signed Agreement on joint use of diplomatic and consular premises would allow rational use of resources and announced that it would soon be defined in which countries it would be applied.
"Serbia and Macedonia are important economic partners with trade amounting to about EUR 850 million a year", stressed Dacic, adding that it was in the interest of both countries to jointly participate in third markets.