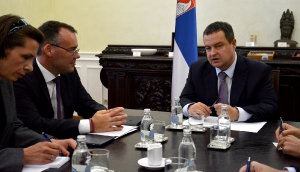 First Deputy Prime Minister and Minister of Foreign Affairs of the Republic of Serbia Ivica Dacic conferred today with Minister for the Bundesrat, Europe and International Affairs of Baden-Wurttemberg, Peter Friedrich, who heads the delegation of this German federal state to the Third Session of the Joint Serbia- Baden-Wurttemberg Commission which takes place in Belgrade, from 29 to 30 September 2014.
Minister Dacic emphasized the importance that Serbia attached to multi-faceted cooperation with this state, one of the four most developed regions in Europe. Minister Dacic thanked his counterpart for the support that the Bundesrat representatives had lent when voting on the Asylum Law, whereby the Republic of Serbia was placed on the list of safe countries, which would undoubtedly contribute to the lowering of the number of false asylum seekers from Serbia to Germany. He also voiced his hope that cooperation between the two parties would be enhanced and developed to the mutual benefit, where approximately 70 000 Serbian citizens living and working in Baden-Wurttemberg play an important role.
Minister Friedrich expressed his pleasure over continuation of cooperation within the Joint Commission, stressing potentials offered by the Strategy for the Danube Region, and the readiness of Baden-Wurttemberg to provide assistance and support in numerous areas, and particularly those which accelerate Serbia's EU integration. He particularly stressed the contribution made by representatives of Baden-Wurttemberg when the Law on Asylum was passed, aimed to cut down the number of false asylum seekers in the Federal Republic of Germany coming from Serbia. Minister Friedrich extended an invitation to Minister Dacic to visit the Baden-Wurttemberg state and to take part in the economic forums which will be organized in 2015 in this German state.