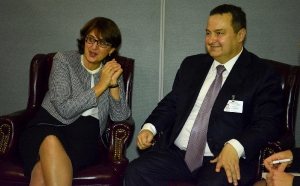 On the first day of attendance of the UNGA by the delegation of the Republic of Serbia, First Deputy Prime Minister and Minister of Foreign Affairs of the Republic of Serbia Ivica Dačić met with Minister of Foreign Affairs of Georgia Maia Panjikidze.
Both sides expressed satisfaction with the fact that the bilateral relations were free from outstanding questions and expressed their readiness to further improve them.
Next year, Minister Dačić in the capacity as OSCE Chairman, will visit Georgia. The Georgian side proposed to consider the possibility of signing several bilateral agreements, during the next meeting, including an agreement on visa exemption for holders of official and diplomatic passports and an agreement on the carriage of goods and passengers.