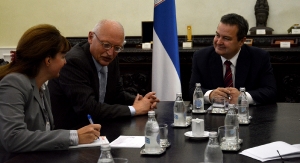 First Deputy Prime Minister and Minister of Foreign Affairs of the Republic of Serbia Ivica Dačić met today with Guenter Verheugen, a prominent member of Germany's Social Democratic Party, former Bundestag MP and former European Commissioner for Enlargement, Industry and Entrepreneurship. Verheugen is visiting Belgrade to attend the Conference "The EU and the Western Balkans 2020".
During the meeting, Minister Dačić said that Serbia's first foreign policy priority was its membership of the European Union and added that our country was fully prepared for the negotiation process. The Serbian Foreign Minister expressed the hope that Verheugen would use his vast experience to help Serbia on its path towards the EU, stressing that our country was ready to strengthen the overall bilateral relations with the Federal Republic of Germany.
Verheugen said that the EU should continue its enlargement policy as it was in the interests of all member states, as well as that prospective EU membership was a major impetus for the implementation of political, economic and social reforms in the candidate countries. Political decisions must be given precedence over bureaucratic and technical issues, he says, and that Serbia is now better prepared for EU membership than the countries that joined the Union in 2004 and later on. Verheugen said that he felt a strong obligation to stand up for Serbia in the EU and he would do it, among other things, because he thought Serbia was not treated fairly in the previous period.