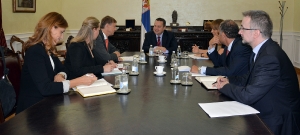 First Deputy Prime Minister and Minister of Foreign Affairs of the Republic of Serbia Ivica Dacic received today Deputy Head of the EU Delegation to Serbia Oscar Benedict, who called on him in the capacity as Chargé d' Affaires.
Topics of discussion included relations between Serbia and the European Union, preparations for the resumption of negotiations with the EU and the dialogue with Pristina, as well as the current foreign policy priorities of both parties.
Minister Dacic underlined the commitment of Serbia to the negotiation process with the EU and the resolve to implement necessary reforms.
Chargé Benedict stressed the importance of adherence of Serbia's foreign policy to the EU foreign policy principles.