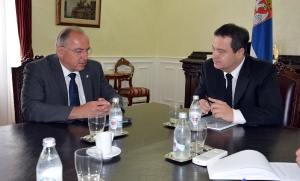 First Deputy Prime Minister and Minister of Foreign Affairs of the Republic of Serbia Ivica Dacic received today German Parliament (Bundestag) Member Josip Juratovic of the Social Democratic Party (SPD).
Minister Dacic emphasized the importance of improving the overall cooperation between Serbia and the Federal Republic of Germany and called for the strengthening of parliamentary cooperation in particular. The Serbian Foreign Minister briefed his interlocutor about the EU membership negotiation process, as well as about the Serbian position on the opening of certain negotiating chapters. Dacic expressed the expectation that the policy of the Government of Serbia in respect of the negotiation process with the EU and the normalization process with Pristina would be met with more understanding and support on the part of German MPs.
Josip Juratovic, who is on the Bundestag Foreign Affairs Committee and Deputy Chair of the Germany-South Eastern Europe Parliamentary Friendship Group, is visiting Belgrade to hear about the reforms implemented by the Serbian Government, the details of the Serbian accession negotiations with the EU, the normalization of relations with Pristina and our views on developments in the region. On return to Berlin he would inform his fellow Bundestag Members about his visit to Serbia. He stressed that, as a Bundestag Member, he wanted to personally contribute to the stabilization of the region and its integration with the EU.