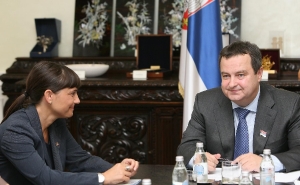 First Deputy Prime Minister and Minister of Foreign Affairs of the Republic of Serbia Ivica Dacic received President of Italy's region of Friuli-Venezia-Giulia, Debora Serracchiani.
Minister Dacic expressed gratitude to President of the region Friuli-Venezia Giulia for the humanitarian aid sent to Serbia by Italy to the areas endangered by flooding, as well as for the donation of the Region for the restoration of the Orthodox Church of St. Spyridon the Wonderworker of Trieste.
The issues in the field of regional cooperation, economic relations between the Region and Serbia, especially in the areas of transportation, energy and scientific research centers were discussed. They also talked about the possibility of expanding the cooperation to the whole of Serbia. The Italian side emphasized that Italy, during its six-month EU presidency, will make efforts to improve the relations between the EU and Serbia, as well as to promote constructive dialogue between the EU and the Russian Federation regarding the construction of "South Stream", respecting the EU rules.
Serbia's interest in re-establishing Belgrade – Trieste air line was emphasized.
They agreed to renew the Memorandum of Understanding between the Republic of Serbia and the region of Friuli-Venezia-Giulia.