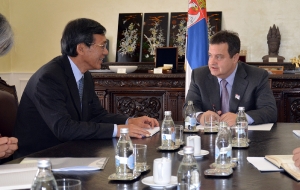 First Deputy Prime Minister and Minister of Foreign Affairs of the Republic of Serbia Ivica Dacic received today a courtesy call from the Japanese Ambassador to Belgrade Masafumi Kuroki.
The officials agreed that the relations between the two countries have constantly been on an ascending line and confirmed readiness to intensify dialogue and exchange visits at all levels.
Minister Dacic expressed gratitude of the Government and the people of the Republic of Serbia for the previous donations of Japan, which in the past 14 years amounted to 460 million euros, including Jen credit, as well as for the aid given in the recent devastating floods that hit our country.
Serbian Foreign Minister welcomed the forthcoming study visit of the senior Japanese Deputy Minister for Emergency Situations Yasutoshi Nishimura, who is coming to our country to witness by himself the consequences of the recent floods before the upcoming donors' conference in Brussels, where Japan will participate as well.
Both sides agreed that, despite significant binding of economic cooperation, there were great opportunities between the two countries for further improvement, especially in terms of major Japanese investment in our economy.
Minister Dacic welcomed the intention of the largest Japanese business association "Keidanren" to send a delegation of representatives of leading Japanese companies to Serbia in September.