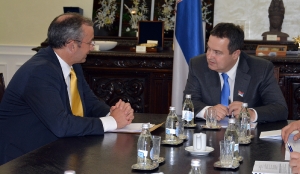 First Deputy Prime Minister and Minister of Foreign Affairs of the Republic of Serbia Ivica Dacic met today with the Head of the EU Delegation to Serbia Michael Davenport.
On this occasion, Davenport handed to Dacic a letter from the EU High Representative Catherine Ashton, where it is emphasized that the EU respects the dialogue in the area of common security and defense policy, as well as the contribution given by Serbia to the EU's efforts in crisis management within that framework.
The Government of the Republic of Serbia was invited to consider the possibility of participating in the newly established EU civilian mission within the framework of the Common Security and Defence Policy in Mali (EUCAP Sahel Mali). The mission aims to support the internal security forces of Mali in securing the constitutional and democratic order, in achieving conditions for lasting peace and maintaining authority throughout the whole territory of Mali. The mission will be deployed by mid-July this year, with an initial term of two years, and its headquarters will be in the capital Bamako.
Also, the letter expresses gratitude for the contribution to other missions, especially when it comes to recently expressed willingness of Serbia to take part in the EUFOR mission in the Central African Republic.
Minister Dacic thanked Ambassador Davenport for the EU assistance in rehabilitating the effects of floods, and together they discussed issues related to the organization of the Donors' Conference in Brussels on 16 June, as well as current issues related to the European integration of Serbia and the negotiation process.