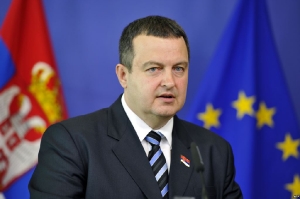 First Deputy Prime Minister and Minister of Foreign Affairs of the Republic of Serbia Ivica Dacic will head the Serbian delegation at the Annual Meeting of CEI Foreign Ministers, which is to be held in Vienna, on 3 June. It is a regular annual meeting of Ministers of Foreign Affairs of the CEI Member States, where issues of common interest will be discussed, and the focus of ministerial discussions will be placed on the topic New Challenges for the CEI. It is also envisaged that the Results of the High Level Reflection Group of the Energy Community be presented. This year's meeting is particularly important because of the celebration of the 25th anniversary of the establishment of CEI, a regional initiative set up in 1989, whose founder, among others, was the SFR of Yugoslavia. The Joint Communiqué is envisaged to be adopted at the meeting.
Mr. Dacic will talk today with Austrian Federal Minister for Europe, Integration and Foreign Affairs, Mr. Sebastian Kurz, and Minister of Foreign Affairs of Bosnia and Herzegovina, Mr. Zlatko Lagumdzija, about Austria's assistance in the rehabilitation of the damage caused by floods in Serbia and Bosnia and Herzegovina.
The annual meeting will be preceded by the 2014 Western Balkans Conference, organized by Austria, which currently presides over CEI, on the occasion of one hundred years of the outbreak of World War One.
Eighteen representatives of CEI Member States will participate in the event. Apart from Minister Dacic, the meeting will be attended by the Ministers of Foreign Affairs of Austria, Albania, Bulgaria, Montenegro, Italy, Croatia, Slovenia and Slovakia. Romania, the Czech Republic, Poland, Belarus, Bosnia and Herzegovina, Macedonia, Hungary, Moldova, Ukraine, and the European Bank for Reconstruction and Development (EBRD), will also be represented at sub-Ministerial level.
Štefan Füle, EU Commissioner for Enlargement, will also take part in the Conference, where the issues related to the European perspective and economic situation of the Western Balkans will be discussed.