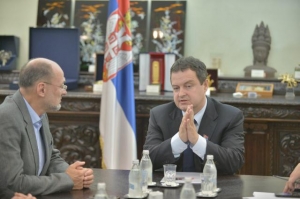 Serbian Foreign Minister Ivica Dacic said today that the EU would help Serbia after the devastating floods that hit our country and that it was the most important message he brought back from his visit to Brussels.
After his talk with Rapporteur of the European Parliament for Serbia Jelko Kacin, Dacic told the journalists in Belgrade that, bearing in mind that this was the first time that Serbia needed to apply for assistance after a natural disaster from the EU as a candidate country, consultation was necessary regarding the dynamics and methodology to be used.
Dacic said that the EU would help, not only in the form of approving specific aid, but also in drawing up the application and formulation of our demands so that the procedure would be as simple and as swift as possible.
He recalled that Serbia should apply for aid by August at the latest, based on a damage assessment which the European Commission would evaluate and if it was satisfied, it would submit it to the European Parliament and the European Council for consideration.
Dacic expressed his conviction that the EP would give such an approval.
He met earlier today in Brussels with European Commissioner for Regional Policy Johannes Hahn.
After meeting with Dacic, Kacin said that the EP had never blocked any kind of assistance and that the aid funds for Serbia had to be provided before a new make-up of the European Commission.
He added that the EU Member States could also provide assistance to Serbia on a bilateral basis.
Kacin pointed out that Serbia had to state specifically and precisely what was needed, and that a disaster could activate the potential of Serbia and encourage political elite to be more determined.
FDPM AND MFA I. Dacic: EU will assist Serbia after devastating floods
FDPM and MFA I. Dacic: An opportunity to show solidarity
FDPM and MFA I. Dacic explains EU assistance mechanisms