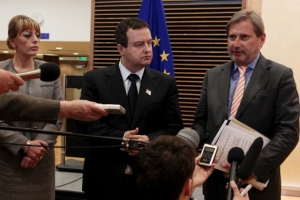 First Deputy Prime Minister and Minister of Foreign Affairs of the Republic of Serbia Ivica Dacic headed today a delegation of the Serbian Government, which met in Brussels with European Commissioner for Regional Policy Johannes Hahn.
Minister Dacic said after the meeting that the meeting was important because Hahn was responsible for the Directorate General for Regional and Urban Policy managing the Solidarity Fund.
"The EU will assist Serbia in applying for assistance since this is the first time we are dealing with these issues", explained Dacic, and stressed the importance of an early completion of this procedure so that we could tap into these funds.
Dacic denied that it was the sum equal to half a billion or a billion euro, but underlined that definitely it was a significant amount of money.
Minister Dacic explained that an approval from the European Commission, European Parliament and also the EU Council was needed.
"We have 10 weeks for the application, the deadline is August. If we apply as soon as possible, the deadlines for decision-making and allocation of funds will be shorter. This Fund determines exact percentages, and it is certainly tens of millions of euro", explained Dacic and added that Commissioner Hahn accepted the invitation to come to Belgrade on Saturday.
The Serbian Government delegation included Minister without portfolio responsible for European integration Jadranka Joksimovic and State Secretary in the Ministry of Finance Niksa Vusurevic.