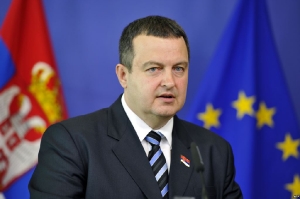 First Deputy Prime Minister and Foreign Minister Ivica Dacic announced that he would lead a delegation to Brussels to discuss aid to Serbia with the European officials.
"Now we can apply for the Solidarity Fund. The European Commission shall assess whether it is more than 0.6% of GDP, which certainly is in our case, and then the European Council will approve the aid", Dacic said in a special broadcast on B92 Television.
He said that apart from the announced support from the European funds, to which Serbia as a candidate country had access, there would be other means of assistance.
"I already talked with my colleague from Turkey regarding funding from their development fund. UAE is providing assistance; Azerbaijan gives 400,000 euros for charity purposes, all of these just being first tranches. Then we have to approach this second part, the funds", said Dacic.
Asked whether the government can promise to help people who have lost their property and been rendered homeless, Dacic said:
"What gives us hope is that for the first time we can use the funds that we had no access to before. It is our task to organize a fair distribution of funds, with no abuse, which applies to the humanitarian aid, as well", said Dacic.
The Minister of Foreign Affairs said that "there are always profiteers", that the regulations were vague, and that the country must simplify them by ad-hoc solutions.
"Now, we have daily problems. Our people do not like any system, even when it comes to humanitarian aid. They organize assistance, come to the border and customs would like to charge them. They wanted to collect duties from the Russians for their aid. A woman from Macedonia is now at the border with 120,000 euros in aid. There are such problems every day", said Dacic.
Former Interior Minister said that once again it was proved that a strong Emergency Management Sector should be in place and recalled that he was the one who proposed the Law uniting the Sector under one management, and that it was previously scattered in several Ministries.
"Without a strong army and police, there would be more victims. We should work on modernizing and strengthening the Sector. However, we are short of people, some of them are neglected, and it is worth mentioning that they are risking their lives", Dacic said.