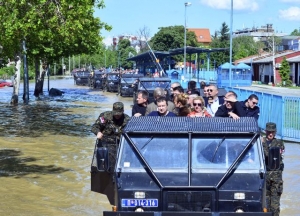 Foreign Minister Ivica Dacic said today that Serbia expected substantial aid from abroad, primarily for alleviating the consequences of floods and thanked those countries that had already provided aid.
Dacic told reporters in Obrenovac, which he visited accompanied by about 70 ambassadors and representatives of foreign delegations, that Serbia expected two kinds of assistance - rescue and recovery assistance, but the most important in the coming days and weeks would be to provide Serbia with funds for recovery.
Foreign Ambassadors told reporters that they were extremely distressed by the images they saw in Obrenovac and that their states would do everything in their power to help Serbia and its people.
Dacic thanked the countries that responded quickly and delivered aid to Serbia.
Ministre Dacic said that what Ambassadors saw today in Obrenovac was far less severe than a few days ago, but it could still be seen how dangerous it was at that critical point, which took a heavy toll in terms of human life, property and livestock.
"It is not only Obrenovac that suffered losses, damage is extensive, human lives and properties are lost, and we will discuss this issue in the coming days", said Dacic.
Dacic said that aid was coming from all over the world, from the Russian Federation across the EU, the U.S. and many other countries, stating that Italy would deliver assistance worth 200,000 euros and Azerbaijan 400,000.
He said that European Commissioner for International Cooperation, Humanitarian Aid and Crisis Response Kristalina Georgieva would arrive tomorrow night in Belgrade and would discuss ways in which Serbia could use the EU Solidarity Fund.