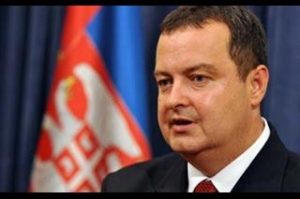 In future, Serbia will continue to not automatically support the resolutions, declarations and other decisions of the European Union at the United Nations, despite its status of a candidate country for membership and the start of its accession negotiations with the EU.
As stated by First Deputy Prime Minister and Minister of Foreign Affairs Ivica Dacic for the daily "Danas", in addition to "the desire to become a member of the EU" Serbia will be guided "by our national interests" in the approach adopted in international organizations.
Asked when Serbia will automatically align its foreign policy with key positions and decisions of the EU, Dacic said: "We will be doing so only when we become a full member".
In view of the accession negotiations with the EU, implying the meeting of standards contained in Chapter 31 "Foreign, Security and Defence Policy", we asked the Minister of Foreign Affairs when, in his opinion, the opening of this segment of the process could take place and whether Serbia would then begin to fully align its foreign policy with the EU.
"For now, the opening of Chapter 31 has not been discussed. Only chapters 32, 35, 23 and 24 are on the agenda. However, even when this chapter is opened, we will not immediately start the automatic harmonization of our foreign policy. That will not so soon", replied Ivica Dacic.
Dacic reiterated that Serbia, before its full EU membership, will be guided by "our desire to be an EU member, meaning endeavouring to align with EU positions as much as possible, and be driven by our national and state interests in each case".