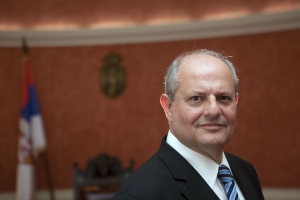 "I have no qualms about EU negotiations", said Ivan Mrkic, Serbian Minister of Foreign Affairs, adding that he was glad about the symbolism of the fact that Serbia would embark on a new stage of its relations with EU under the Greek presidency of the Union in the first half of this year.
"What needs to be understood only is that 21 January is a milestone on a long trajectory, a beginning of something qualitatively new", said Mrkic for Tanjug ahead of the first intergovernmental conference on Serbia's accession, formally marking Serbian membership talks.
Serbian Foreign Minister pointed out that "there will be no favouritism along the way". Serbia would endeavour to "meet the professional, organizational and expertise needs and requirements".
"I have no qualms about these negotiations", Mrkic said, stressing that he agreed with the predictions that Serbia could become an EU member in five, five and a half years.
Kosovo and Metohija would pose one of the major challenges, and Belgrade's aim, which is, according to Mrkic, acknowledged in Brussels as well, is to allow a trouble-free everyday life in Kosovo and Metohija, and that no fundamental political differences over the status issue are felt.
When it comes to the formulation from the EU draft negotiation framework saying that "an overall normalization of relations between Belgrade and Pristina" is necessary, Mrkic comments that "not even a single person could now be found in Brussels able to respond precisely what it means".
To Mrkic's understanding, the gist lies in the fact that the EU "is hinting that Serbia is not expected to change its policies", and Serbia has no such intention.
Moreover, the Minister rejects the possibility that Serbia will be asked to recognize Kosovo in the future:
"Do not think that all of a sudden, a blackmail will emerge at some point in time, to the effect: Serbia, you will not enter the EU unless you recognize Kosovo's unilaterally declared independence. The response would be: Thank you very much, we shall not join, and it is plain as a day for everyone", Mrkic said.
Mrkic assessed that Serbia's standing in the international arena nowadays is much better than it used to be, for it has demonstrated that it keeps its promises. To possible future pressures it will respond, he said, as it has done so far – with a constructive policy, without abandoning its own interests.
Mrkic is confident that "we are no longer in a position to justify our actions. We have become a serious partner to all the stakeholders, and they come from all parts of the world... all thanks to the fact that we have shown what we are capable of, and it does not imply any capitulation or giving up our own interests".
He reminded that in the course of the previous year he had more than 250 meetings with foreign ministers and the heads of states and prime ministers, and that his ministry took part in or made its contribution to the implementation of a large number of interstate agreements, of which more than 50 were signed. Particular importance was being attached to the economy.
It should be added that Serbia will assume OSCE chairmanship-in-office in 2015 and that it has recently become a member of the Economic and Social Council of the United Nations, with the wholehearted support of the member states, Mrkic pointed out.
When it comes to relations with the United States, Mrkic points to the highly developed exchanges between the two countries' officials: "Does it not speak of the fact that things are now different from the way they used to be? The atmosphere is totally changed."
Mrkic said that the Chinese Foreign Minister is due to visit Serbia in the spring, and that it is likely that he will accompany that country's President on the occasion.
"The relations between the two countries are outstanding, the projects that China is executing in Serbia are not carried out by that country elsewhere in Europe. The fact that this is taking place precisely in Serbia means that we deserve something, after all. Many would like to have this kind of relations", Mrkic added.
The Minister expects that Russian President Vladimir Putin will also visit Serbia this year, more information will be known following Serbian President Tomislav Nikolic's expected visit on the occasion of the opening of the Sochi Winter Olympic Games.
Talking about OSCE chairmanship-in-office, Mrkic says:
"One of the OSCE aims is that the security dimension is regulated in an up-to-date manner, to draw up a document reflecting more the realities and current challenges. The same goes for the sector of the economy and human rights. With a bit of luck and some ingenuity, it is possible that the 2015 summit will be held in Belgrade."
A hearing in the case concerning genocide charges Croatia filed against Serbia and the Serbian counter-charges will open before the International Court of Justice in March.
Let me clarify one point: it would have been better for Croatia if it had not filed the charges at all, and it would be better for both countries if they were withdrawn. We should look to the future, and leave the past to the historians", Mrkic says.
"Even though Serbia has not instituted the proceedings, it is ready for the hearing", says the Minister, not entirely refuting the possibility that "a miracle might happen" and that an agreement on dropping the charges is reached in the meantime.
When commenting on anti-Serbian incidents in Croatia, Mrkic points out that the incidents are bad and incomprehensible, adding that Serbia's reactions to them aim to halt such things, but that the settlement of the issue is primarily in the hands of Croatian authorities.
When it comes to the recent criticisms levelled at his ministry concerning staff and not finding suitable candidates for key ambassadorial appointments, he reiterated that he had been "interpreted in a one-sided and ill-intentional manner".
"I only said at some point that I have no one to nominate from this institution, because all the best candidates have already been assigned, and these are the capitals that require people with special personalities", the Minister said.
The nominations, he announces, will be made in January.
When it comes to the dismissal of his assistants, Ms. Ljubica Vasic and Mr. Damjan Jovic, Mrkic refuses to engage in "speculations fuelled with elements of sensationalism":
"The sensation created is due to the motives I am not familiar with. We have more than 20 dismissals and appointments, and to much more significant positions, at government sessions – and nobody makes mention of them!"
As he concluded, they would be assigned to other jobs, where, as it had been estimated, they would be much more useful.