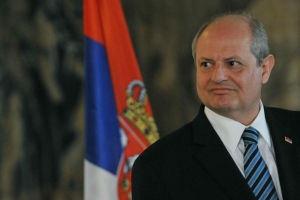 Serbia is not limited by restrictions as some other European countries are in economic and trade cooperation with China, said the Serbian foreign minister, adding that he hoped China and the EU would adapt to each other's standards through communications by the time Serbia joins the European bloc.
The EU has been mulling legislation since March 2012 to seek greater powers to block non-EU, especially Chinese, companies from bidding for government contracts in the 28-nation bloc, Reuters reported.
"Now in Serbia, we are not limited by those restrictions," Serbian Minister of Foreign Affairs Ivan Mrkic told the Global Times in an exclusive interview in early October. "We want, with all the forces, to enter into businesses with China, because the political atmosphere is the best possible one."
The foreign minister, who accompanied Serbian President Tomislav Nikolic on a visit to China in late August, said he had "very friendly and fruitful" talks with his Chinese counterpart Wang Yi during the visit. He recalled that his first meeting with Wang dated back to the days when the two were both serving as ambassadors to Japan.
Mrkic also voiced Serbia's support for a mechanism of cooperation between China and countries of Central and Eastern Europe (CEE), which held a high-level conference in Warsaw, Poland in 2012, when former Chinese premier Wen Jiabao and leaders of 16 CEE countries had reached consensus on strengthening cooperation.
With an aim to "make a direct contribution to this form of cooperation," Mrkic said Belgrade will put forward its candidacy to host next year's conference.
"Serbia's geostrategic position in Europe, its commitment to joining the EU, as well as its excellent relations with Russia, good relations with the neighbors, including Turkey, provide a solid groundwork for the activities of Chinese enterprises," Mrkic said.
Noting that economic and trade cooperation between Serbia and China is on the rise, Mrkic said "there are possibilities for its further deepening and expansion, particularly in infrastructure and energy."
China's first infrastructural project in Europe, the Zemun-Borca bridge across the Danube, is being carried out by the China Road and Bridge Corporation in Belgrade and expected to be completed by 2014. The construction of two sections of the Obrenovac-Ljig motorway on Corridor 11 is expected to start soon by Chinese company Shandong High-Speed Group, according to Mrkic.
"Our expectations are that the Chinese side will also be involved in some other infrastructural projects as well. The total value of these projects amounts to some $2 billion," he said.
Talking about people-to-people exchanges, the foreign minister said, "There is a very positive perception of China and the Chinese people in Serbia." The long-time friendship between the two countries should be "deepened through more frequent visit exchanges in all areas of cooperation," he said.
Admitting that Serbia hopes to join the EU bloc "as soon as possible," Mrkic also noted that Serbia's integration process into the 28-nation bloc is "directly linked" with Serbia's dialogue with Kosovo, which declared independence from Serbia despite the latter's rejection in 2008.
Although the dialogue between Belgrade and Pristina should "lead to the further normalization of the situation and improvement of life in Kosovo and Metohija," the dialogue "by no means" represents Serbia's recognition of the unilaterally declared independence of Kosovo and Metohija, Mrkic stressed.