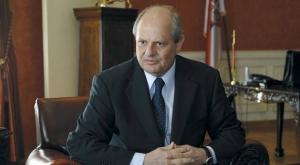 The order of steps is clear. Croatia filed its Memorial against Serbia first and should, therefore, be the first to withdraw it.
This was agreed at all the meetings with my colleague Vesna Pusic; namely, to withdraw our charges and countercharges consecutively, said Serbian Foreign Minister Mrkic for the "Danas" daily, commenting on the allegations by the Croatian media that official Zagreb "will, nevertheless, not withdraw its case against Serbia concerning the application of the Genocide Convention". According to the Serbian Foreign Minister, "the times of piling up charges and countercharges against each other should be behind us".
Commenting on the Montenegrin initiative to set up the Western Balkan Six, Mrkic said that when Serbia first heard about the initiative, it said it was open to any form of bringing the countries of the region closer together and strengthening their cooperation. At the same time, we underlined that we were against duplication of the existing regional initiatives and proliferation of new ones devoid of relevant substance. It is true that discussions were held in New York on bringing the Balkan countries together within the so-called "Western Balkan 6 + 2" initiative. At the meeting, my Montenegrin colleague Igor Luksic and EU Commissioner for Enlargement Stephan Fuele explained the essence of the initiative. However, judging by their reactions, the attending colleagues were not enthusiastic, particularly because of the impression that the initiative would only duplicate the existing ones. It was agreed to hold another meeting where the launchers of this initiative and Mr. Fuele would present its objectives in greater detail and its possibility of making a specific contribution to the well-being of the entire region through the implementation of some vital projects of regional importance. I repeat that Serbia's attitude is positive, that it is open and ready to support anything that is viable and aimed at strengthening regional cooperation and accelerating the process of its EU integration.
As regards austerity measures announced by the Serbian Government, the Serbian Foreign Minister said: "savings measures have been introduced in the Ministry of Foreign Affairs ever since I took over. Even a special working group was set up in order to identify ways and means of more rational spending for various purposes - from leasing ambassador residences and official trips to minor necessities. Therefore, we are not overspending. The nature of our profession is to travel because foreign policy cannot be pursued from the office. But we have also imposed maximum restrictions on travel. The country is in crisis, we understand that. We are also aware that austerity measures are a necessity and we are adjusting ourselves to that. Travel is approved only for those destinations where some benefit is likely for Serbia. Furthermore, hospitality or entertainment costs have been slashed down; the numbers of embassy and consulate staff are at a minimum; salary levels have not gone up for years... We are saving on whatever we can; there is no waste of money, said Mrkic.