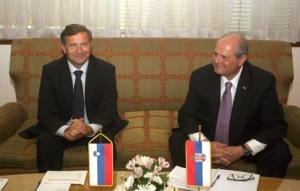 Minister of Foreign Affairs of the Republic of Serbia Ivan Mrkic met today in Belgrade with his Slovenian colleague Karl Erjavec on the eve of the first joint meeting between the Governments of Serbia and Slovenia. This is the second meeting of the two Foreign Ministers in the past ten days, as they also met last week, on the fringes of the UN General Assembly session.
Members of the Slovenian delegation, headed by Bratusek, and the representatives of the Serbian Government signed a number of agreements on the exchange of classified information, access to third markets, in the field of energy, the Protocol between the Serbian Ministry of Education, Science and Technological Development and the Slovenian Ministry of Education, Science and Sports on cooperation in the field of education, as well as the Letter of Intent concerning the hand over to the Republic of Slovenia of the residence of the former SFRY in Rome.
Slovenian Prime Minister Alenka Bratusek, who is paying her first visit to Serbia, was welcomed with the highest state honours by Prime Minister Ivica Dacic.
Joint Meeting of the Governments of Serbia and Slovenia

Signing of the Agreement