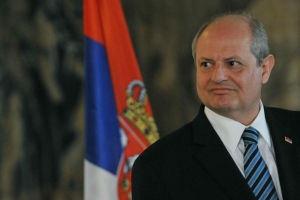 Serbian Minister of Foreign Affairs Ivan Mrkic assessed that there were no specific obstacles to Serbia's accession to the European Union (EU), expressing his conviction that the Brussels agreement would be fully implemented by the end of the year.
He also emphasized that it would not happen that Kosovo would be admitted to the Organization for Security and Cooperation in Europe (OSCE) as long as Serbia were the OSCE Chairman-in-Office in 2015.
The Minister pointed out that some of the obstacles for Serbia's entry hinged on objective circumstances in and around the EU, but that he did not see any obstacles specific to Serbia.
"We have shown that we wish to have good relations with all, and not only in the region. Also, we have carried out serious reforms in Serbia and significant advances have been made in many sectors ", said Mrkic in an interview for the Austrian daily newspaper "Weiner Zeitung".
He also voiced his expectation that this would be more and more recognized and rewarded in the coming years. However, he refused to speculate when Serbia would be enabled to join the EU.
"It is no question of speed but of the need to accelerate quality reforms that our country will also benefit from. Once all this is in place, then it'll be noted and further decisions will be facilitated", explained the Minister.
As regards the obstacles related to the implementation of the Brussels agreement with Kosovo, Mrkic confirmed that they existed and would exist in the future.
"It is not simple to carry out anything as soon as possible. This was, so to speak, an entirely mission impossible until a few months ago, if not a year ago. This is a dynamic process. And sometimes it is more difficult to implement than to come to an agreement on measures or steps ", indicated the Minister stressing that there was the goodwill present on both sides.
"We've reached the point where we are discussing form. We are not going to agree straightaway on every detail. Nevertheless, we are moving forward and approaching final agreement over the implementation. I anticipate full implementation of the Brussels agreement by the end of the year ", underlined the Serbian Foreign Minister.
He recalled that Prime Minister Ivica Dacic would be meeting again with Kosovo's PM Hashim Thaci on 8 July, in Brussels.
Asked about the possibility of holding talks without the presence of an EU representative, Mrkic said that this was a possibility but that High Representative Catherine Ashton had greatly facilitated the process so far and its initiation, in the first place.
"However, over time she will not be that indispensable, as in the initial stage ", Mrkic believed adding that a couple of days ago he talked with Kosovo Foreign Minister Enver Hoxhaj without a mediator.
Mrkic said that Belgrade wanted the Brussels agreement to be implemented as quickly as possible, because there was the awareness of the political substance of this process.
"On the other hand, the Serbian community in Kosovo has been forced, over the last 14 years, to lead a very specific and unusual way of life. In other words, this community will have to adjust. One cannot go there and simply make these people change their frame of mind overnight, because someone has told them to do so. It takes time. One has to be very careful and cautious in promoting the ideas and rationale behind the substance of the agreement ", Mrkic pointed out.
"It is Kosovo Serbs who must accept, with all their heart, that they are those who need to implement the agreement. We, the Serbs of Belgrade, do not have police units in Kosovo and there is absolutely no way that we can dictate their actions. We need to rely on our fellow Serbs of Kosovo and they should take the new agreement seriously", pointed out the Minister.
Mrkic assessed that Serbs and Albanians had not yet forgiven each other for the events of the past, but that they were well on the way of doing that.
"This depends on the willingness and the actual goodwill of all parties, primarily the majority population of Kosovo. They have to prove their good will and show a sign of confidence. Most importantly, in the short- and long-term both parties will have to create an atmosphere that prevailed between the Serbian and Albanian nations for decades. They will re-establish the lost confidence and earlier friendship between them", Mrkic believes.
He added that simultaneously with the implementation of the Brussels agreement, some gestures were also welcome.
"I am counting on the Albanian side to be more creative in this respect than us, since the Serbs living in Kosovo are a minority", stressed the Serbian Foreign Minister.
Asked if Kosovo would be admitted to the OSCE while Serbia was its CiO in 2015, Mrkic replied that this would not happen.
"This is simply out of the question. And all EU Member States are aware of that", Mrkic underlined, adding that everything Serbia was doing on the Kosovo issue did not mean that it would recognize Kosovo's independence.
"This is, pure and simply, against the principles enshrined in our Constitution", Mrkic replied.