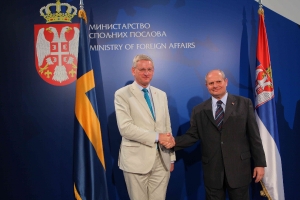 Foreign Ministers of Serbia and Sweden, Ivan Mrkic and Carl Bildt agreed today that, following the decision on opening its EU accession negotiations, Serbia's attention should be focused on economic development.
At his joint press conference with Bildt, Mrkic stated that new investments were discussed in that context.
"Although Serbia is currently faced with many tasks relating to its EU path, we agreed that focusing on development should be of major importance", Mrkic underlined.
Bildt reiterated that the decision on opening the accession negotiations was a new phase, opening up numerous possibilities for Serbia.
"The new phase is opening, new possibilities are there, but the question is how to use them and translate them into economic and social development of Serbia and other countries in the region", said Bildt.
Mrkic underlined that Bildt was a longtime friend of Serbia,
who often paid visits at difficult times for our country, and that he always "had understanding and made an effort to help, which Serbia appreciates".
According to Mrkic, in the past three or four months, in particular, Bildt assisted in finding the right way to reaching the decision of the European Council.
They agreed that the bilateral relations were good and not characterized by anything that would cause any problems.
Bildt particularly underlined the new spirit of cooperation existing among the leaders of the region that he noticed during his stay in Zagreb, and not only in the relations between Belgrade and Pristina, but among all others in the region, as well.
"This, in tandem with the fact that the leaders of the region must understand that they should take economic issues into serious consideration, gives rise to a certain optimism", said Bildt.
At the Serbian Government headquarters, Bildt previously met with Prime Minister Ivica Dacic, whereas his meeting with Serbian President Tomislav Nikolic was scheduled for tomorrow.
After his visit to Belgrade, the Swedish Foreign Minister intends to travel to Pristina.
Mrkic – Bildt press conference
Mrkic about Serbia - Sweden relations