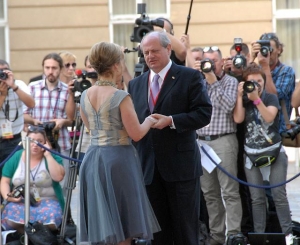 Serbian Foreign Minister Ivan Mrkic expressed his satisfaction that Croatia was becoming a full-fledged member of the European Union, because - as he put it – this meant that the region was moving in the right direction.
"The region is moving in the right direction. I am very glad that Croatia will be in the EU as from tomorrow. It deserves that. Croatia has been very helpful lately and extended support to us at all meetings," Mrkic said in Zagreb.
Mrkic reminded that Serbia made a final arrangement regarding its EU accession talks a few days ago and voiced hope that Serbia would soon become an EU member as well, and although, as he said "this would take years, from a historical point of view this is a trend and we hope that all of us in the region will join the European family."
"There are concrete arrangements between us and Croatia on how to help each other in the future, just as there are the same arrangements with other EU countries, which will help us in our talks with Brussels," the Serbian Foreign Minister noted.
Mrkic reiterated that talks on withdrawing mutual genocide charges are underway: "Ever since we have been talking about this, there has been no deadlock. It is known that we both want to resolve this as soon as possible, and I am hopeful this will happen very soon."
He also said that there was certain progress when it comes to resolving the issue of pensions and missing persons, and added that even though this was a complex problem "we are addressing it and it would stop being a problem impeding our progress in all areas."
Asked about the protocol arrangements at the ceremony like the representation and the seating of Atifete Jahjaga, Ivan Mrkic smiled: "I don't know, but I'm sure that we are in good hands and that the hosts have given consideration to all the subtleties."
In support of the view, as he remarked, that some manifestations should not be given too much political meaning, Mrkic mentioned that today he attended a luncheon which was also attended by Kosovo Minister Enver Hoxhaj.
"We talked and I think that these manifest forms should not be given too much political weight, we should rather focus on what is called a celebration and the fact that Croatia joined the European Union," said Mrkic.
Minister Mrkic on Croatia's entry into the EU
Minister Mrkic on Serbia-Croatia case before the Court in The Hague


Minister Mrkic on the seating arrangement with Albanian representatives
Serbian top officials at Banski Dvori


Minister Mrkić with Carl Bildt and foreign ministers from the region at the celebration in Zagreb