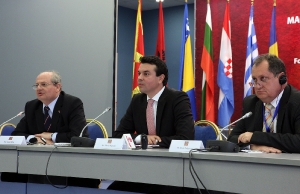 Constructiveness and desire for ever stronger cooperation prevailed at the Ministerial Meeting of the South East European Cooperation Process (SEECP) held in Ohrid, assessed Mrkic.
"We will all benefit from such a meeting. This morning, we had many discussions on all SEECP-related topics, and all the participants took part. I am satisfied with the Ohrid Declaration and consider it a step forward in the general creation of links and a climate facilitating the EU accession for all of us", Mrkic said.
Commenting on the situation regarding the cancellation of the summit planned for the weekend and Kosovo's participation in today's Ministerial Meeting, Serbian Foreign Minister said: "We were agreed that Kosovo take part in the Ministerial Meeting, as some kind of special guest, because it is useful also to hear what they think."
He said that Belgrade was currently conducting negotiations with Pristina also regarding the implementation of the Brussels Agreement.
"We are meeting with them continuously and are reaching some solutions on whose implementation we will have to work together, if we truly intend to implement all that we have signed", said the Serbian Foreign Minister.
Asked what Serbia further needs to do on its EU path, he said that there were no more conditions to be fulfilled or steps to be made by Serbia in order to be granted what it believes and what many EU member states, more or less openly, believe that Serbia deserves.
"I don't see what more we have to do to get what we deserve. I don't see any particular difficulties, but I reiterate that, since it is not upon us to decide, we must all be patient and wait for the end of June to hear the European Council's decision", Mrkic added.
He stressed that, until that particular moment, no once could guarantee anything, since there exist different views and perceptions. However, Mrkic underlined that this time he believed that those opinions could not vary so much because, for example, only at the Ohrid Meeting, Serbia was commended for its conduct in the foreign and internal policy areas by literally all the participants.
The Meeting in Ohrid was also attended by EU Commissioner for Enlargements Stefan Fule. When asked to comment on his talks with Fule, Mrkic stressed that he has lately been in permanent communication with this EU high official and others.
"I have my own impressions, but I don't think it would be fair to speak openly about what I was told and by whom. I can reiterate that we were praised", concluded Serbian Foreign Minister.
Before the opening of the SEECP plenary session, a working breakfast was held, attended by heads of delegations of Serbia, Montenegro, Albania, Bosnia and Herzegovina, Macedonia and Kosovo.
It was hosted by EU Commissioner for Enlargements Stefan Fule and Montenegrin MFA Igor Luksic, stated the Serbian Ministry of Foreign Affairs.
The Ministerial meeting was held in the "gymnich" format, used by the ministers of EU Member States for informal talks, which means that the Meeting participants were represented by their personal names. Kosovo Minister of Foreign Affairs Enver Hoxhaj previously stated that he was not going to take part in the Meeting in Ohrid, but that his Deputy Petrit Selimi would participate instead.