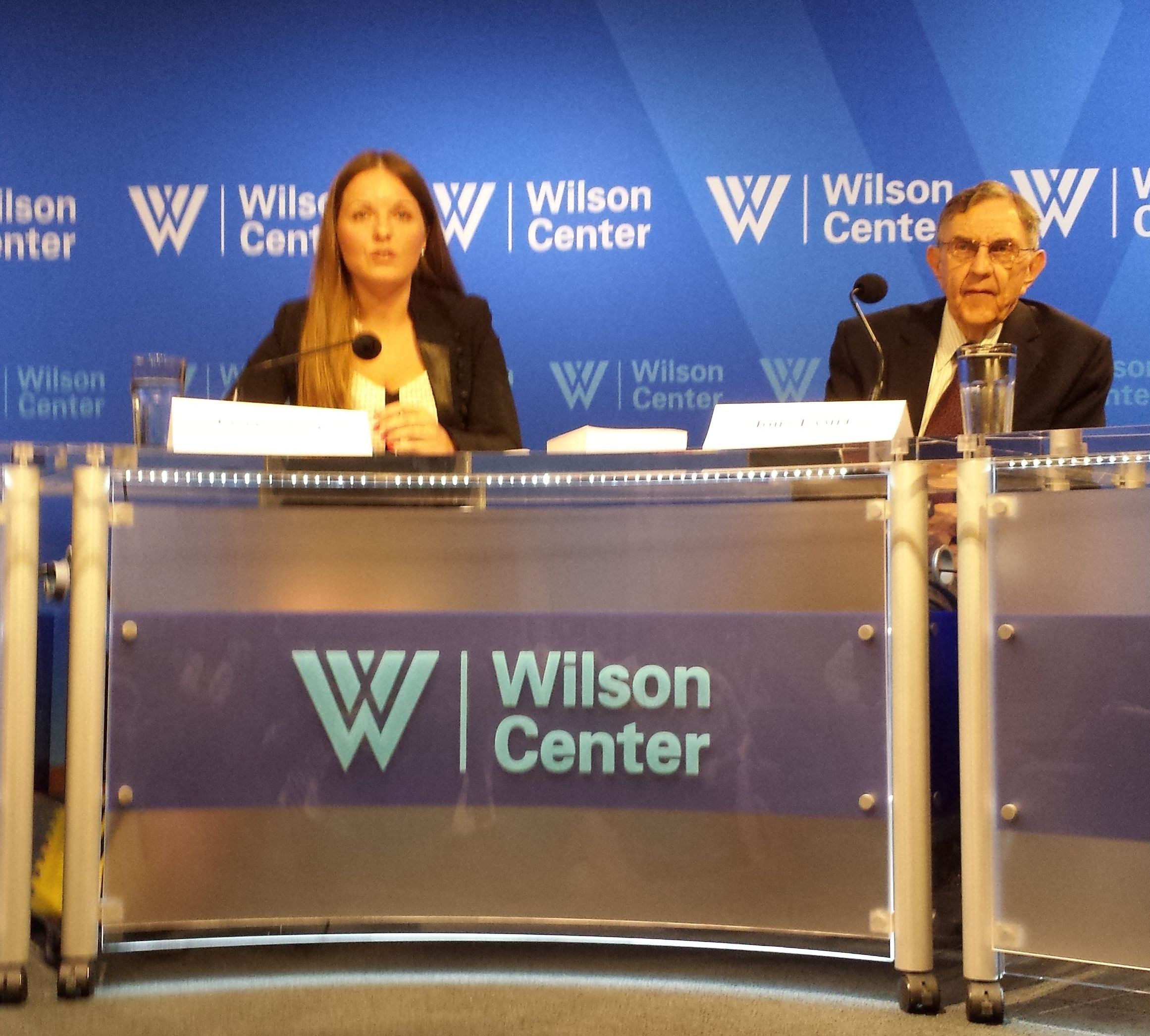 In the organization of the Woodrow Wilson Center, Assistant Foreign Minister (AMFA) Lj. Vasic gave a lecture entitled "Challenges that the Republic of Serbia faces on its path to European integration". The event was moderated by J. Lampe, a senior researcher at the Woodrow Wilson Center.
AMFA Vasic underlined that the Serbian Government included EU membership among its key national priorities. For this reason, the Government is committed to working on the implementation of EU standards aimed at achieving the Copenhagen criteria. Vasic added that the Government of the Republic of Serbia accomplished significant results in the fight against corruption and organized crime, as well as in the judicial reform. Assistant Foreign Minister stressed that possible EU decision (28 June 2013) on granting Serbia a date for starting accession negotiations was very important for our country. Vasic underlined that the international community supported Serbia on its European integration path, as confirmed many times during her current stay in the United States. She recalled that the new Serbian Government undertook a number of activities to raise the awareness of the broadest possible public of the advantages of European integration, which resulted in increased support to Serbia's efforts towards EU membership. In this context, the Government brought to the attention of Serbian citizens that reaching the EU standards was important for the stability and strengthening of state institutions. Vasic added that the rule of law, respect of human and minority rights, as well as women's rights were important elements of European integration. Vasic informed the audience of the fact that the Serbian Government, by organizing various EU educational and training programs for civil servants, tends to strengthen institutional capacity building needed for successful implementation of the necessary reforms.
AMFA Vasic underlined that the Serbian leadership had demonstrated its will, energy and maturity to cope with the problems that had not been addressed for a long time, among which the issue of dialogue with KiM is certainly one of the most important. One of the major steps taken by the new Government is raising the level of dialogue and active participation of President of Serbia Tomislav Nikolic, Prime Minister Ivica Dacic and First Deputy Prime Minister Aleksandar Vucic, which greatly contributed to the reaching of agreement. She further said that Vucic made a great effort to explain the Belgrade-Pristina agreement both to the leaders of and Serbs in northern KiM and that an open and honest dialogue was conducted with them on all issues.
Vasic also said that the Government significantly enhanced regional cooperation with neighboring countries, to which the visits by the highest Serbian officials to Croatia, Bosnia and Herzegovina, Romania and Bulgaria contributed very much.
Vasic concluded that Serbia was a very important country indeed with a central place in the region of Southeast Europe, so that the EU decision to grant Serbia a date for starting the negotiations, in order to have Serbia join the EU, would greatly contribute to regional stability.