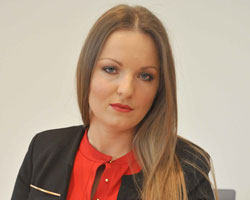 Assistant Foreign Minister Ljubica Vasic gave a lecture on "Focus of Serbian foreign and European policies" at the Foreign Ministry's Diplomatic Academy, on 13 May 2013, to the students and teaching staff of the Vienna Academy of Diplomacy and the students of the Nigerian National Defence Academy.
In her presentation Assistant Minister Vasic spoke about Serbia's foreign policy priorities in the context of its European integration process, regional cooperation and cooperation with the rest of the world.
In talking about Serbia's foremost foreign policy priority, which is EU membership, the Assistant Minister laid emphasis on the importance of accession to the European Union for the development of the country as a whole, membership requirements, reform steps and evolving challenges standing in the way of EU membership, including the ongoing dialogue between Belgrade and Pristina.
Regional cooperation is perceived as an important factor of stability and development of the region, and as a precondition for the entire European integration process.
In the context of bilateral cooperation, the Assistant Minister singled out in particular relations with the United States of America, Russian Federation, PR China, non-aligned countries and others. She pointed out that the Serbian Government also considered important the development of cooperation and overall relations with African, Asian and Latin American countries.
As for the Belgrade-Pristina dialogue, she highlighted the constructive approach that the Government of Serbia demonstrated in a very short period of time by making maximum efforts to find a compromise solution. These efforts have been ongoing within the European integration process and are all aimed at safeguarding the rights and interests of the Serbs of Kosovo and Metohija.