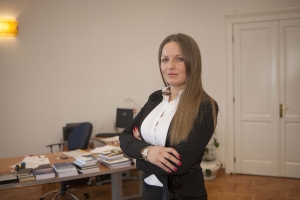 The Assistant Minister of Foreign Affairs of the Republic of Serbia, Ms Ljubica Vasic will pay a working visit to Brussels on 20-21 February. The visit will take place in the context of the activities undertaken by the officials of the Republic of Serbia with a view to getting a date for the opening of accession negotiations with the European Union.
On her visit to Brussels, Assistant Minister Vasic will meet with Mr Fernando Gentilini, Director for Western Europe, the Western Balkans and Turkey in the European External Action Service (EEAS), Mr Pierre Mirel, Director for the Western Balkans in the European Commission Directorate General for Enlargement, and with Ms Jana Sindelkova, Deputy Head of Cabinet to European Enlargement Commissioner Stefan Fuele. The Assistant Minister will discuss with her interlocutors from the EC administration Serbia's European integration process and its further progress towards that end.
The emphasis in the talks will be placed on the activities that Serbia is carrying out in relation to the preparation of the Report by the European Commission and EU High Representative for Foreign Affairs and Security Policy Catherine Ashton, due to be released in April 2013, which will evaluate if Serbia has met the requirements for being named a date for the commencement of its EU membership negotiations, in June 2013.