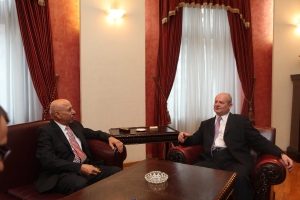 Minister of Foreign Affairs of the Republic of Serbia Ivan Mrkic received today Ambassador of Kuwait Fawzi Al-Yasem.
MFA Mrkic underlined the importance of the several decades of good relations with Kuwait and pointed out the readiness towards their further strengthening, particularly in the area of economic cooperation.
Minister Mrkic informed the ambassador of Kuwait of the priorities of the Government of the Republic of Serbia and explained Serbia's positions regarding the resolution of the issue of Kosovo.
Ambassador Fawzi Al-Yasem conveyed the interest of his country in providing loans for funding the infrastructural projects in Serbia.